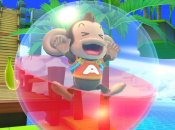 After weeks of rumours and leaked ratings regarding a remake or rerelease for Super Monkey Ball: Banana Blitz, a new version of the Wii game has finally been confirmed by Famitsu.
There's not much to go on, with full details coming in the issue of the Japanese magazine coming out on Thursday 18th July, but it's confirmed the game will feature "additional functions" and is arriving on 31st October on Switch (and PS4). Famitsu did publish these screenshots, though, so prepare to bask in the glory of those patented Sega colours and blue skies:
It certainly looks pretty, but in all honesty we're a little disappointed that we're getting the uninspiring Wii game as opposed to one of the mighty GameCube iterations, but perhaps the dodgy controls will be sorted out for this new version. We'll be keeping our eyes peeled for more details as they come to light.
Are you excited to play a 'new' Super Monkey Ball game? Which one is the best in the series in your opinion? Share your thoughts with a comment below.