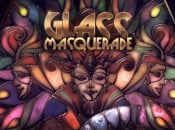 Indie publisher Digerati has revealed that it's bringing a relaxing puzzler to Switch in the form of Glass Masquerade, and it'll be available as soon as next month.
The game features artistic, stained-glass puzzles inspired by Art Deco artisans of the 20th century, allowing players to unwind and complete each offering in their own time. You'll be combining hidden glass pieces to unveil various pieces of art with absolutely no pressure – as you can see in the trailer, there are no time limits or restraints to speak of.
It's an interesting concept, and one which certianly offers something a little different on Switch. Here's a list of its key features:
Key features:
– 25 beautiful and intricately designed stained-glass jigsaw puzzles to complete
– Journey around the world – Each puzzle is inspired by a different country
– Art Deco mosaics and presentation give the game a distinct visual style
– Relaxing gameplay provides a calming experience – no time limits, no stress
– Soothing, atmospheric soundtrack by Russian composer Nikita Sevalnev
– Finish the game and replay the puzzles to improve your completion times
– Interface support for the following languages: English, French, Italian, German, Spanish, – Japanese, Korean, Portuguese-Brazil, Russian, Simplified Chinese, Traditional Chinese
The game launches on Nintendo Switch on 8th February and will be available to purchase directly from the Nintendo eShop.
Do you like the look of this one? Do you like your games to be more on the relaxing side of things? Let us know in the comments.