Guide: Best Game Boy / Game Boy Color RPGs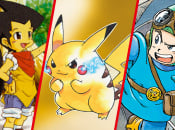 The humble Game Boy was a revolution when it launched at the close of the 1980s. Despite its monochrome visuals, it offered true portable play, and played host to some amazing pint-sized versions of classic hits, as well as all-new experiences which played to the hardware's modest strengths.
While the Game Boy (and its successor, the Game Boy Color) didn't get anywhere near as many RPGs as the Game Boy Advance, there are still plenty of role-playing adventures to choose from – and we've pulled together some of the best in this guide. Before you pull out your pitchfork, remember: these are presented in no particular order.
https://www.sickgaming.net/blog/2021/03/...olor-rpgs/