Watch Dogs (WATCH_DOGS) is an open world action-adventure stealth video game developed by Ubisoft Montreal and published by Ubisoft. It was released on 27 May 2014 for Microsoft Windows, the PlayStation 3, PlayStation 4, Xbox 360 and Xbox One, with a Wii U version planned for release in the fourth quarter of 2014. Set within a fictionalized version of Chicago, Illinois, the single-player story follows a hacker and his efforts to seek revenge after the accidental death of his niece. The open world design lets players freely roam Chicago, which includes the urban city, open countryside, and slums.
The game is played from a third-person perspective and its world is navigated on-foot or by vehicle. Players control Aiden Pearce, a highly skilled grey hat hacker who can hack into the CTOS, a centralized system which manages the hyper-connected city of Chicago. Players can choose to play either against the law, or for it—as a criminal or a vigilante. An online multiplayer mode is also provided in the game, allowing up to eight players to engage in both co-operative and competitive gameplay in a recreation of the single-player setting.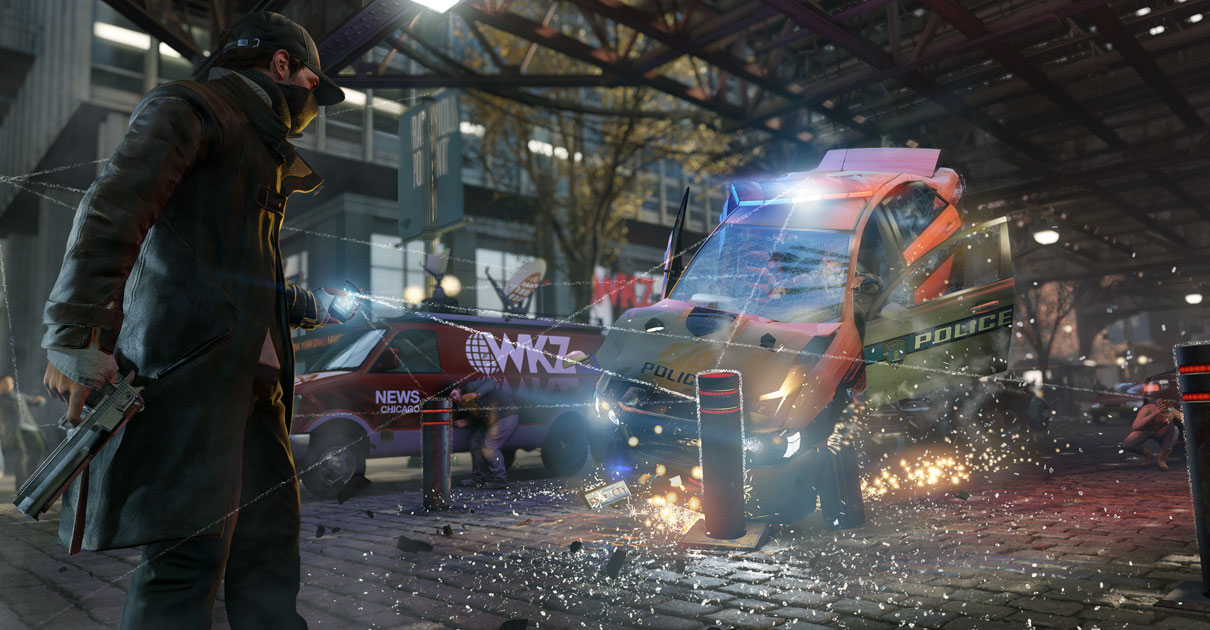 Semi-Reviews of the game.
Lead character as dead-eyed sociopath
The story that drives the action in Watch Dogs isn't exactly groundbreaking, hitting the familiar beats – revenge, death, kidnapping - but it's covered in quite a substantial amount of grit. The one aspect that saves it is that it eventually sets out the notion that the single-minded pursuit of something – especially something that involves criminal activities – has a rather heavy cost attached to it. Without going into spoiler territory, the denouement in Watch Dogs isn't what you'd call a happy ending, and this seems fitting; after the misery, pain and violence Pearce has visited on both his enemies and loved ones, he doesn't get to ride off into the sunset like so many other open-world protagonists.
"For Watch Dogs (top), the development team reproduced various landmarks from the city of Chicago, such as the Willis Tower (bottom)."
Hacking and sneaking
Before the player is able to unleash the full capabilities of Pearce's phone, they need to hack the local ctOS hub. There's an open-ended quality to these encounters; players can charge in guns blazing, or they can opt to sneak in and out without using any bullets. In some instances, they're able to dot through these facilities simply using the CCTV network. Once the hub's hacked, new players will see the local ctOS towers in the area. Once those are hacked quests and missions open up on the map.
These range from missions that result in their own mini-narratives, to fetch quests, to criminal take downs, to augmented reality games. There's also the opportunity to invade another player's game and engage in a rather gripping game of cat-and-mouse where one hacks the other's phone and tries to make off without getting killed. We were concerned this would fall apart on public servers, but aside from the reported troubles on the PC version, it holds up well and offers something very interesting and possibly indictative of where seamless interconnectivity is going.
"Using the in-game smartphone, players have the ability to view if a civilian is about to be involved in a crime."
The phone is all-too-often used as a solution to classic, open-world problems instead of driving innovation. This is largely down to the mission design, which is inconsistent. While there are enjoyable, innovative moments (like where you guide friendly characters to safety by jumping between security cameras, or when you remotely hack your way through a prison level to reach a target), there are also plenty of tedious chase / tailing missions, and 'go here, kill this guy, escape the police' style levels. And while I'm on the subject of escaping the police…
the multiplayer, which is incredibly well implemented. Most features are integrated into the single player, and you get a pop-up message allowing you to accept or deny invites. Nice touch--sometimes you just want to be left alone. If accepted, other players enter your game to play one-on-one hacking games, races, or police chases (via the companion app). While multiplayer activities are slightly different to solo missions, they feel well connected to the overall experience. I mean this in the best way possible: it's as if you're not really playing online. There's no disconnect, no server hassle… just the tension of playing cat-and-mouse with a real human opponent.
It's these state-of-the-art thrills, combined with a genuine desire to investigate and fiddle with every inch of Chicago, that'll push you to play until the bitter end; until the game has spilled all its secrets. The story is unlikely to keep you logged in, and the missions will often feel annoyingly familiar, but if you connect with and really explore this high-tech world, there are plenty of virtual--and emotional--rewards to harvest.
Finally: There's a wealth of activity for players to sink into in Watch Dogs, some of it innovative, some of it not.