Assassin's Creed Unity
Assassin's Creed Unity is a historical fiction action-adventure open world stealth video game developed by Ubisoft Montreal and published by Ubisoft. It was released in November 2014 for Microsoft Windows, PlayStation 4 and Xbox One. The game is the eighth major installment in the Assassin's Creed series, and the successor to 2013's Assassin's Creed IV: Black Flag. It also has ties to Assassin's Creed Rogue which was released for the previous generation consoles the PlayStation 3 and Xbox 360, on the same date as Unity.
Set within Paris during the French Revolution, the single-player story follows Arno Dorian in his efforts to expose the true powers behind the Revolution. The game retains the series' third-person open world exploration as well as introducing a revamped combat, parkour and stealth system. The game also introduces cooperative multiplayer to the Assassin's Creed series, letting up to four players engage in narrative-driven missions and explore the open-world map.
Assassin's Creed Unity received mixed reviews upon its release. Praise was aimed towards its visual upgrades and multiplayer-oriented format, while negative attention was drawn towards its weak storyline, unrefined gameplay, and numerous graphics issues and other bugs upon release. Because of the high amount of initial bugs, Ubisoft issued an apology; season pass sales were suspended, current season pass holders were offered a free digital copy of one of several recent Ubisoft games, and announced that the game's first downloadable content campaign would be made available for free.
Gameplay
Combat for the game was meant to be rebuilt, with fencing being used as an inspiration for the new system. In addition to returning weapons from previous games, Assassin's Creed Unity introduces the Phantom Blade. The Phantom Blade uses the mechanics of a crossbow to fire a silent projectile a great distance, while still serving the same role as the Hidden Blade in previous Assassin's Creed games. Navigation for the game was also overhauled: new "Free-run up" and "Free-run down" commands were added to make it easier for the player to scale buildings in either direction. Additionally, Arno learns new parkour moves throughout the game, but the player can also purchase new skills as well. With the updated, larger crowds, new interactions with them are also available. The crowd regularly presents many activities, appearing organically, that the player can then choose to engage in at their leisure. Examples include scaring a group of bullies by pulling out a weapon, "settling" a disagreement between two civilians by killing one of them, which is usually a Templar, or chasing down a thief who has just pick pocketed somebody.
For the first time, the series allows players to customize the characters abilities, adopting a skill tree that enables players to assign points earned through gameplay to improve their skills in stealth, mêlée & ranged combat, and health.[10] Players are also able to customise their weapons, armour and equipment to further complement their individual style of play.[11] Players also have a wider selection of weapons available, including swords, axes, spears, polearms, pistols and throwable items, such as smoke bombs.
Assassin's Creed Unity also introduces cooperative multiplayer to the series. Players can enter taverns, which act as social hubs in the game, where you can see if any friends are playing the game at the current time. If they are currently in a mission, they will appear as a "ghost" version of their player, allowing you to approach it to request to join their mission. If accepted, you are transitioned to their game and both of you reset to the most recent checkpoint, and continue on from there. Up to four players can join together in this fashion. The player will take on the role of Arno, customized within their own game, with other players appearing as their own customized version of Arno in their own sets of equipment, weapons, and armor. Many missions and activities will be available for cooperative play (which the player can also complete on their own), but there are some story missions that are single player only.
There are significant tie-ins with the Assassins Creed Unity Companion App, a "freemium" click app with limited "direct ties to the overall story of Unity". There are a significant number of chests, assassination targets, and other collectibles that are visible to all players but only accessible to those who've completed certain goals within the app. Following an update in February 2015, this requirement is no longer necessary, meaning players who have downloaded the update, can now collect all the chests in the game without having to play the companion app.
DLC Content
Dead Kings
The Dead Kings downloadable content picks up one week after Germain's death. Arno, still feeling devastated over Elise, finds refuge in Saint-Denis (at the time, known as Franciade). He is contacted by the Marquis de Sade at a tavern, who requests his help in finding the manuscript of Nicolas de Condorcet, hidden in the tomb of Louis IX beneath the city, in exchange for a ship that would take Arno to Egypt.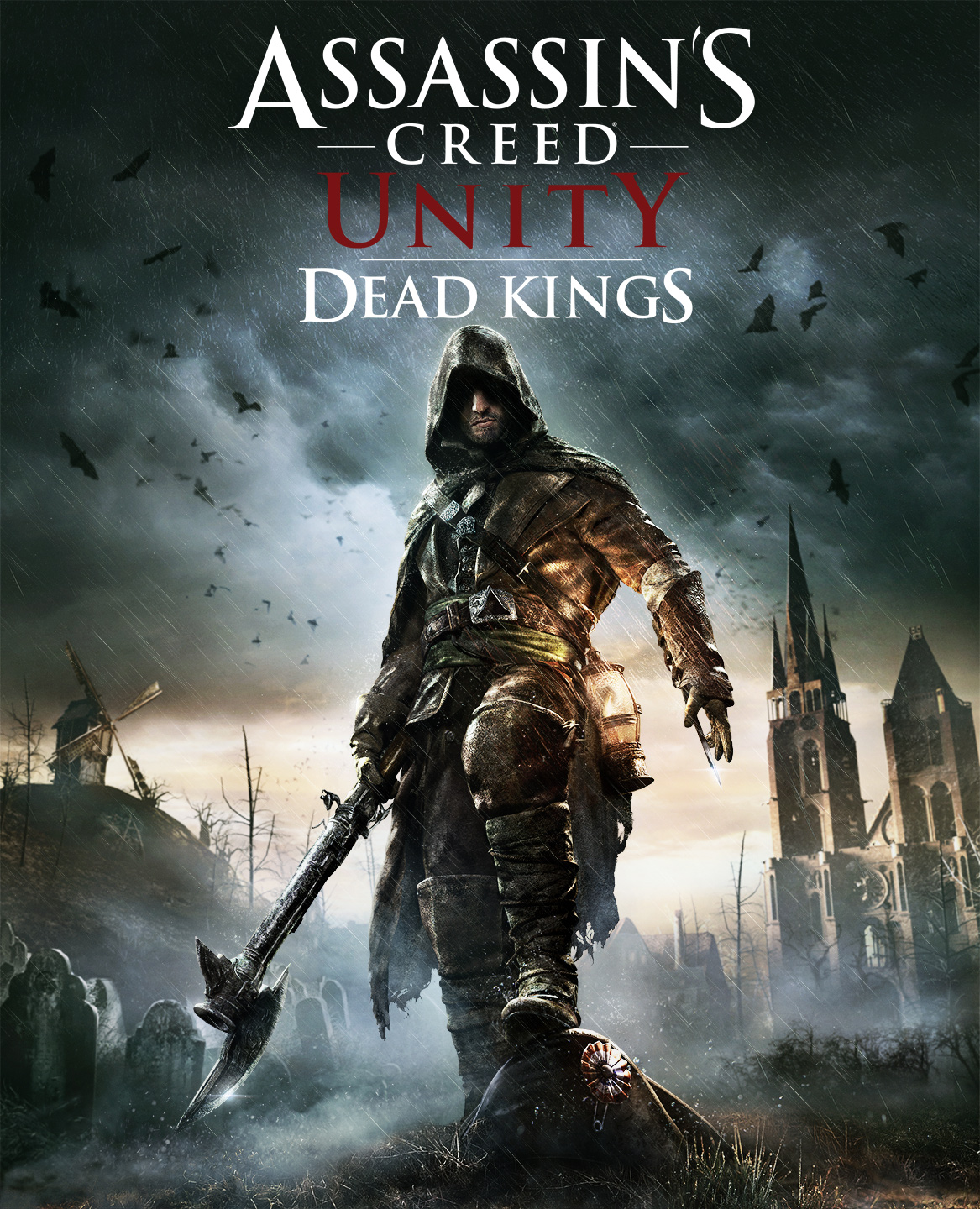 During his search, Arno encounters a group of tomb raiders, led by Captain Philippe Rose, a subordinate of Napoleon Bonaparte, who wishes to retrieve the artifact located within a Precursor temple, buried under the city's church. He also finds that the manuscript has been stolen by a child thief, Léon, who was captured by the raiders. Arno rescues Léon and retrieves the manuscript, but declines to help him stop the raiders. His resolve softens after an encounter with a vision of Elise, as well as hearing Léon's pleas.
After discovering the location of the temple, and retrieving the key from one of Napoleon's officers, Arno finally manages to open the door to the temple. He is then ambushed by Rose, who attempts to take the artifact for himself. Arno survives the ambush, and makes it to the artifact before Rose and his men. After killing Rose, Arno retrieves the artifact, a head-shaped lantern containing a spherical Piece of Eden, and uses it to repel the raiders and escape the temple. He later meets de Sade at the tavern and delivers the manuscript as promised. Finally, Arno decides to stay in France, and contacts the Brotherhood to deliver the Piece of Eden to Egypt, far away from Bonaparte's reach.