Dragon Age: Inquisition
is an action role-playing video game developed by BioWare and published by Electronic Arts. It is the sequel to Dragon Age: Origins and Dragon Age II, the third major game in the Dragon Age franchise. The game was released in November 2014 for Microsoft Windows and the PlayStation 3, PlayStation 4, Xbox 360, and Xbox One video game platforms.
The player has to choose a race for their player character: human, dwarf, elf, are playable races, with Qunari playable for the first time. Combat focuses on the player's ability to prepare, position, and form a cohesive team with their party members. Tactical view returns for all five platforms in Dragon Age: Inquisition, whereas before it was exclusive to PC in Dragon Age: Origins, and was removed entirely in Dragon Age II.
The romance aspect of the game has been overhauled. As opposed to the previous gift and dialogue based system, romance arcs occur in reaction to story events and variables specific to each character and include sex scenes. Additionally, not all romance arcs require sex.
Customization was significantly overhauled, specifically by allowing equipment and other items to modify their appearance based on who it is equipped to. For example, if the player finds a breastplate and decided to give it to a party member; depending upon which party member received it, the breastplate would automatically adjust its shape and aesthetics in order to fit that particular character while still maintaining his or her identity. Players can customize their keeps, such as rebuilding a garden as a Chantry church or a herb garden. These upgrades have minor effects on the Inquisitions espionage, commerce or military capabilities.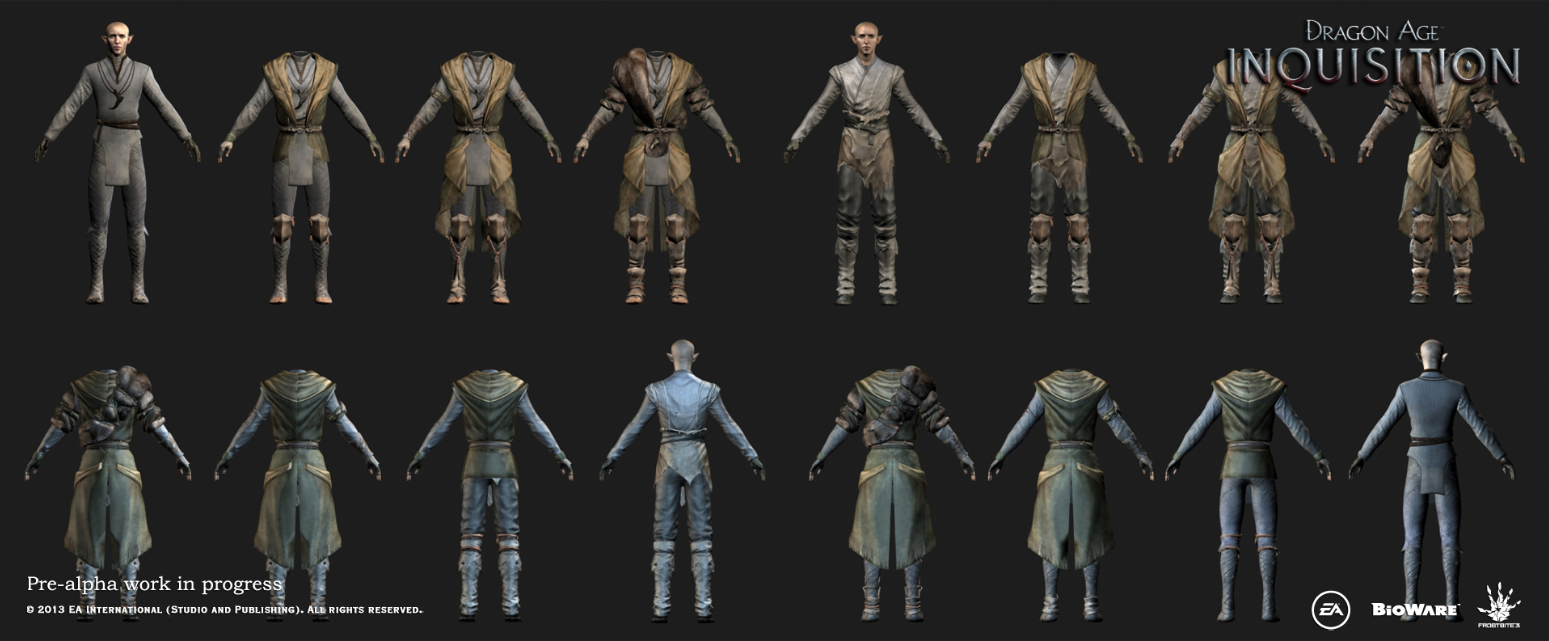 Players have an ability to import their save files from the first two games into Dragon Age: Inquisition "to shore up world consistency". If players of the previous games do not have access to those save files, Bioware released an online interactive story creator, narrated by Varric, in which they can detail the major plots of the previous two Dragon Age games to provide this level of customization without requiring replay of the initial games.
It looks like this; a tapestry with some familiar scenes or characters depicted in a familiar style. You can drill down to the finest of details and create a 'world state' that you can then export into Inquisition.
Here's a trailer, showing what this online update is all about. (It's about dragons.)
You can fight dragons on the new Ferelden Castle map; but only if you or an ally have crafted the Dragon's Call item. Players will need to fight to Zone 5, and then use the item to summon one of the three elemental dragons added in this update. And would you believe it, there are new weapons and armours available for those who successfully take down the big ol' lizard.
For the full round up on Dragon Slayers in the New Dragon Age series, visit this link to BioWares FAQ on dragon-slaying.
Link:http://adf.ly/1GeDIf
Here are a few FAQ's from website.
Q: When will the Dragonslayer Multiplayer Expansion be available?

A: Dragonslayer will be available for Xbox One, Xbox 360, PC, and PS4, and PS3, on May 5, 2015.
Q: How much does the "Dragonslayer" expansion pack cost?

A: Dragonslayer is free to download for all supported platforms.
Q: Are any new maps included in Dragonslayer?
A: Dragonslayer introduces a new "Ferelden Castle" destination. Before each match, players can select one of three elemental dragons to fight. Each dragon has its own abilities and impact on the environment.
Q: Are there any new characters in Dragonslayer?

A: Dragonslayer adds three new characters to the multiplayer mode roster:
Skywatcher, the Avvar:

A warrior who can summon the elements to unleash massive damage;


ZITHER!, the Virtuoso:

A crowd-pleasing mage with a musical twist;


Isabela, the Duelist:

The swashbuckling, dual-dagger rogue is back, wielding a handy crossbow to keep foes pinned down.

Each character has brand-new abilities and mechanics, bringing a whole new gameplay style and feel to Dragon Age: Inquisition multiplayer mode.
Thanks For Reading!
Regards.