Midweek Madness – Armistice Sale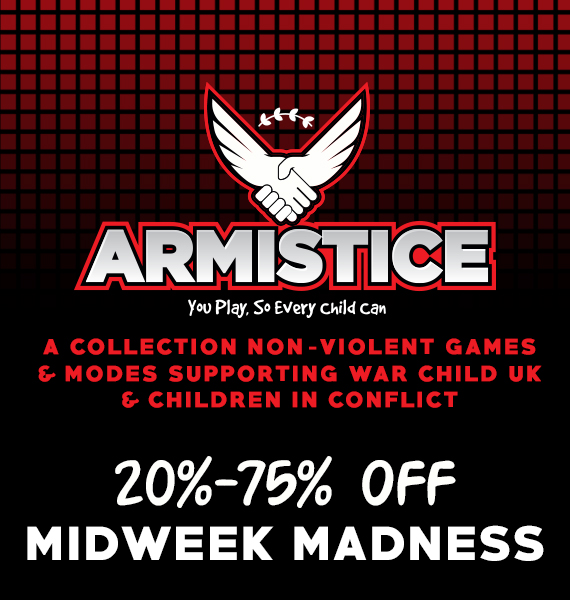 The Armistice Steam Sale fundraiser is back, promoting peaceful gameplay in support of children still affected by war today. This year marks 100 years since the armistice that ended the First World War, so War Child has pulled together a bunch of the best-selling games to mark the occasion that are either non-violent or have been modified as part of this year's Armistice campaign (johnson Wilde & Prison Architect).
Each game that is part of the sale is donating a % of developer proceeds to War Child UK & its US partner Children in Conflict to raise vital funds for children whose lives have been torn apart by war.
• ABZÛ (505 Games) – Donating 50% of developer proceeds / Discounted by 50%
• Broken Sword 5 (Revolution Games) – Donating 50% of developer proceeds / Discounted by 25%
• Democracy 3 (Positech) – Donating 100% of developer proceeds / Discounted by 25%
• johnson Wilde (PlayStack) – Donating 50% of developer proceeds / Discounted by 50%
• Machinarium (Amanita Design) – Donating 60% of developer proceeds / Discounted by 60%
• Mini Metro (Dinosaur Polo Club) – Donating 50% of developer proceeds / Discounted by 50%
• Prison Architect (Introversion Software) – Donating 50% of developer proceeds / Discounted by 75%
• Scanner Sombre (Introversion Software) – Donating 50% of developer proceeds / Discounted by 75%
• RiME (Six Foot) – Donating 50% of developer proceeds / Discounted by 50%
• The Talos Principle (Devolver Digital) – Donating 50% of developer proceeds / Discounted by 75%
• The Room (Fireproof Games) – Donating 100% of developer proceeds / Discounted by 75%