You Can Now Get Switch Joy-Con Inspired By The GameCube Controller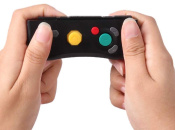 The GameCube controller is arguably one of the most comfortable gamepads of all-time and unlike the Switch Joy-Con, it is less likely to give you hand cramps due to the ergonomic design.
Taking all of this into consideration, the gaming accessory manufacturer SADES has now released a wireless Joy-Con (left and right) modelled on the GameCube's controller. As you can see above and below, the right analog is swapped out with C-Stick and you've even got the same button layout featuring the kidney-shaped X and Y buttons.
These GameCube Joy-Con controllers are available now from Amazon for US$59.95 and are available in black (it's a pity there are no indigo or spice colours available). Below are some extra features and details about it:
-Unique Game Cube design button, hours of comfortable game play with curve ergonomically designed grips.
-The wireless Home button wakes up the host, which provides quick and convenient.
-Built-in near field communication NFC function for Amiibo. The dual strong vibration motor will bring you a different experience in the game.
-Two Joy Con can be used independently in each hand, or together as One game Controller when attached to the Joy Con grip.
-Randomly updated. Includes 1 Micro USB cables for charging purposes. Compatible with Nintendo Switch as a Replacement for Joy Cons.
Is this the Joy-Con set you've been wanting? Leave a comment below.
https://www.sickgaming.net/blog/2019/10/...ontroller/