Video: Digital Foundry's Full Tech Breakdown Of GRID Autosport On Switch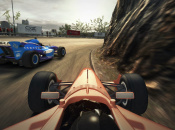 Motorsport enthusiasts who own a Switch no longer need to worry about how they'll get their regular dose of speed on the go now that GRID Autosport has been released. In our review, we gave the Feral Interactive port eight out of ten stars and said it was one of the best racing games on Nintendo's hybrid system to date.
The tech experts over at Digital Foundry have now gone one step further – praising it as "the best racing sim" they've played on the Switch so far. Not to be confused with the reboot GRID on Xbox One, PS4, and PC, GRID Autosport is described as a "deluxe conversion" of the last generation Xbox 360 and PlayStation 3 title.
So, how does it hold up on Nintendo's device? The resolution docked runs at 1920 x 1080, or if you play in portable, you'll get a resolution of 1280 x 720. There's also a graphics and performance mode to select from within the game menus, and this will further alter the experience. Last of all is a bonus energy saver mode, which is exclusive to handheld play.
On the frame rate front, the game docked in graphics mode runs at a mostly stable 30fps, but can experience the occasional spike and dip. If you play in performance mode while docked, you can expect anywhere between 45 to 60 fps. In portable mode, the energy saver and graphics modes are much the same. As for the performance mode on the go, the frame rate is similar to the fps when docked.
Despite this, DF still considers this to be the best game within this genre that the Switch has to offer right now and it goes far beyond the last generation versions. While it might not be the latest entry in the series, it still does a fantastic job – offering HD texture packs, rumble support, motion controls, hundreds of cars and tracks, and a range of extra options.
Get the full rundown in the video above and tell us how your time on the track has been with GRID Autosport.
https://www.sickgaming.net/blog/2019/10/...on-switch/