Nindies Showcase Platformer EarthNight Leaps Towards A December Switch Launch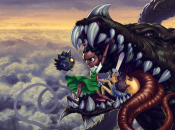 One of the many games featured in August's Nindies Showcase presentation, EarthNight, has just scored a solid release date on Nintendo Switch. You'll be able to get your hands on it from 3rd December.
In case you can't quite remember what it's all about, let us give you a quick recap. The game is a hand-drawn action-platformer set during a dragon apocalypse – mankind is living in exile on space colonies orbiting the planet. The game's star duo – a sword-wielding freelance photographer and a young student blessed with ethereal superpowers – take it upon themselves to reclaim their home by skydiving through Earth's atmosphere and striking back against the monsters below.
Here's a little more info taken from the press release:
"The two heroes approach their dragon-slaying mission with drastically different tactics. Stanley's powerful legs allow him to make both high jumps and long leaps, while Sydney favours agility by making use of an air dash and double jump ability. Both heroes wield their bespoke skills to overcome hostile environments and push towards the vulnerable heads of their scaled serpentine foes.
"Each EarthNight level features procedurally-generated dragons with multiple exits and secrets rewarding exploration. Slaying dragons grants Sydney and Stanley rewards like dragon eggs and other mysterious objects that unlock powerful upgrades. With the right tools, the duo can topple even the toughest opponents while moving through stages at breakneck speeds."
"EarthNight represents seven years of hard work from a collective of talented artists and the final product is something we're immensely proud to share with everyone," says Rich Siegel, founder of Cleaversoft. "We hope that Nintendo Switch, PlayStation 4, and Steam players are as excited to hurtle back to Earth and slay dragons as we are to watch them."
The game will be available for $14.99 / €13.99 / £12.59 / $21.00 AUD when it launches in December.
Do you like the look of it? Will you be adding it to your collection? Tell us below.
https://www.sickgaming.net/blog/2019/10/...ch-launch/