Dark Souls-Like ANIMUS: Harbinger Brings The Battle To Switch Next Week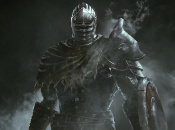 We know, we know – the whole Dark Souls comparison thing is more overdone than that obliterated piece of toast you ruined this morning, but look… This really is like Dark Souls.
Everything from ANIMUS: Harbinger's opening sequence to its combat (all visible in the smartphone version trailer above) reminds us of From Software's grisly action-RPG, right down to the player character's familiar appearance. For all intents and purposes, the game appears to be a cheaper, portable take on the famous series, albeit with some key differences here and there.
To teach you a little more about it, here's a story introduction and feature list:
These are the days before Ire: Blood Memory, the days when Kerr the Breaker's evil slipped its way into Cadmeia. You, Forlorn — follower of the Resonant, and caught out of time and place — are called upon by the shadow of the late King Cadmus to bring judgement to those that have betrayed the land. Only you can take on this duty, as you are forgotten, and those forgotten can never die, as they have truly never lived. Be the hand of deliverance and mercy to the afflicted. You will have no friend save for your trusty blade, axe, and hammer. Answer the call of this dead sovereign.
Game Features:
• Compact stage and boss fight game
• Main quests (21)
• Sidequests – Trial (12) / Proof (6) / Passage (random boss)
• Proficiency tree
• Skill shards
• Reinforcement system
• Farming equipment and materials
• Difficulty (3)
• Weapons, armour, and accessories of different types and attributes
The game's launching on Switch on 7th November and will be available for just $7.99, considerably less than Dark Souls: Remastered's retail price of $39.99.
Do you think this one might be worth picking up? Or would you rather play the full-fat experience now that it's available on Switch anyway? Let us know with a comment.
https://www.sickgaming.net/blog/2019/10/...next-week/