Super Rare Games Promises More Physical SteamWorld Games If Quest Sells Well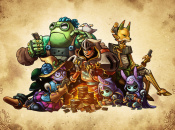 If you missed the news last week, SteamWorld Quest is going on sale in physical form today. The Switch console exclusive is a particularly solid and satisfying card battler well worth your time, but there's another reason you might want to pick up a copy, too.
Super Rare Games has confirmed that, should SteamWorld Quest sell well, it has been given the go-ahead to also release both SteamWorld Heist and SteamWorld Dig: A Fistful of Dirt in lovely physical form. If you're hoping to have a full set of SteamWorld games on your shelf, this sounds like a pretty good opportunity.
SteamWorld Quest will be going live on the site at 6pm UK time today (so that's 10am PT / 1pm ET / 7pm CET) and will be available for £30. It comes with all of the usual Super Rare extras which you can see below and is limited to 7,000 copies.
Are you a fan of the series? Are you thinking of getting yourself a copy of SteamWorld Quest today? As always, let us know down below.
https://www.sickgaming.net/blog/2019/11/...ells-well/