Shmup Collection Brings Three Old-School Style Shooters To Switch Next Week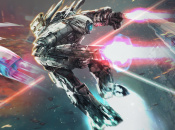 Shmup fans will be delighted to hear that 3 old-school style shooters are headed to the Switch on 14th May. While they might not have the prestige of some of the best shmup games on the Switch, they come in at a low price of £13.49 for the trio on the eShop. In North America it will also be possible to buy Armed 7 DX, Satazius Next and Wolflame individually it seems.
These three shmup games are from the vaults of Astro Port studio and have been lovingly remastered for the Switch. Here's a bit more info from the publisher, Storybird:
With ARMED SEVEN DX, discover 7 stages of pure mecha-shooting action with customisable weapons. Use all laser beams, space rockets and missiles to suit your needs. Gear up and fight!

Discover SATAZIUS NEXT the new classic shoot them up for your console. Completely redesigned and animated for more gaming pleasure, Satazius Next takes you in a galaxy far away. Lost on planet Agano, resist the attacks of space pirates and save the universe from destruction. Aim to kill to defeat your enemies.
With WOLFLAME, defend the living humanity of planet Sig Fildonia. Your mission is to destroy the invaders military base and turn Operation Wolflame into a successful resistance campaign.

Enter the futuristic resistance and use all your skills and weapons to defeat alien forces from eradicating all life forms.

Features:

– 3 Shoot Them Up classics on 1 cartridge.
– All games feature a wide range of customisable weapons.
– Four levels of game difficulty: from easy to insane.
– Various Shmup Styles to accommodate all players.
It sounds like quite a cool package for shmup fans and collectors will no doubt want to opt for the limited edition boxed copy, although this comes at a bit of a price…
Let us know if you plan to pick up the Shmup Collection when it flies on to Switch next week with a comment below.
https://www.sickgaming.net/blog/2020/05/...next-week/