Nintendo's Latest Patent Protects IC Tags Within Soft Toys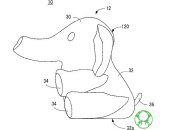 Nintendo recently filed a patent that intends to prevent damage to IC tags within soft toys.
As weird as this may sound, it seems to actually refer to the NFC feature contained within plush amiibo. One example of this is the Yarn Yoshi amiibo which was released in 2015.
A similar patent dating back to 31st March of the same year (not long after the arrival of the yarn amiibo) was also rejected by the Japan Patent Office.
Here's the full summary of the patent, courtesy of Japanese Nintendo:
The requisites of the application are a stuffed toy with an outer surface and a filler. The bottom portion of the stuffed toy is a flat surface with an IC tag attached to this area, which has been reinforced, and a decorative area.
The reinforced area must have a hardness that is harder to bend than the IC tag therefore prevents the IC tag itself from bending. The outer material is a second material which is softer than the first material. The reinforced area is sandwiched between the cover and decorative areas.
The user then holds the bottom portion of the stuffed toy over a reader / writer or sits the bottom of the toy on the reader / writer. The tag information can then be read or rewritten.
Would you like to see Nintendo make more use of the amiibo concept? Leave a comment down below.
[source j-platpat.inpit.go.jp, via japanesenintendo.com]
https://www.sickgaming.net/blog/2020/05/...soft-toys/