Watch Out Mario Kart, BIG-Bobby-Car Is Speeding Onto Switch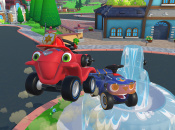 The Nintendo Switch is home to many fine kart racing games, including Mario Kart 8 Deluxe, Crash Team Racing Nitro-Fueled and Team Sonic Racing. On the other side of the coin, we have Race With Ryan, Hello Kitty Kruisers and the truly atrocious Garfield Kart Furious Racing.
Just when we thought our best Nintendo Switch Kart Racing games list would never need updating again, another little racer throws its hat into the ring. Perhaps you had a red plastic Bobby Car to scoot around your driveway when you were a kid? Well, soon you'll be able to relive the fun of your days as a toddler with BIG-Bobby-Car – The Big Race which will be speeding on to the Switch on 24th September for $29.99.
Here are a few details from the official PR:
Whiz across a world full of adventures in your BIG-Bobby-Car. Meet other BIG-Bobby-Cars, complete tricky missions and discover hidden treasures until the day comes when you win the annual Big Race and whoop it up on the winners podium as new champion.
– Experience the first game using the classic BIG-Bobby-Car and the new BIG-Bobby-Car models NEO and NEXT.
– Explore an open world game involving a wide variety of tasks.
– Complete over 40 missions with lots of challenges in the course of a story.
– Drive races against other cars in the BIG-Bobby-Car world and become the champion at the Big Race.
– Use the Character Editor to design your own BIG-Bobby-Car.
– All dialogs are spoken completely in English.
With Big Bobby's open world and 40 missions, it seems that this one may not be just a simple kart racer. How do you think this one will turn out? Let us know with a comment below.
https://www.sickgaming.net/blog/2020/09/...to-switch/