Action Combat Flight Sim Air Missions: Hind Is Blasting Onto Switch Today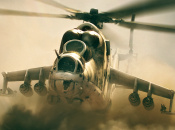 Switch owners can now take to the skies in Air Missions: Hind, an action combat flight simulator launching on Nintendo's platform today.
From publisher Grindstone and developers Games Farm and 3Division, the game has just enjoyed a successful retail launch in Japan. It lands in Europe today and will appear on the North American eShop just a little bit later on 24th September, with those who purchase the title on Switch being treated to three bonus Russian built helicopters to pilot in-game.
Here's an official description:
Air Missions: HIND puts players in the hot seat of the heavily armed Mi-24 Hind assault helicopter as they take to the skies in devastating air assault missions. Before each mission, the formidable Mi-24 Hind (also known as the 'flying tank') can be customised with different skins and weapon sets depending on the mission parameters and goals. Two weapons can be equipped on the wings, in addition to a machine gun mounted on the front of the helicopter, and players can choose from an arsenal of deadly weaponry including UPK 23 machine guns, GUV gun pods, FAB bombs and various rockets and missiles.
When piloting the helicopter, players can switch between a simulation style first person cockpit view, gunners seat view or external third person view depending on your play style or mission goals. Combined with three helicopter difficulty levels to master, Air Missions: HIND offers lots of replayability options across the various missions.
And we also have a feature list:
Features:
● Take control of the Mi-24 assault helicopter, a.k.a the flying tank.
● Campaign mode with fifteen missions based on fictional conflicts.
● Customise and equip your helicopter with an arsenal of missiles, machine guns and rockets.
● Four different environments to master: Central Asia, Eastern Europe, The Arctic Ocean and Southeast Asia.
● Fly combat missions in single and multiplayer modes including Deathmatch, Instant Action and Online Co-op.
● Master three different helicopter control difficulty levels.
● Three bonus Russian built attack helicopters to pilot.
As noted above, the game's available to buy from the eShop today in Europe, with pricing set at £22.99 / €24.99. In the US, it'll cost $24.99 when it launches next week.
Are you liking the look of this one? Think you might give it a go? Tell us below.
https://www.sickgaming.net/blog/2020/09/...tch-today/