Talking Point: What Are You Playing This Weekend? (September 19th)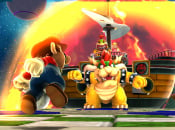 What a busy week we've had! With a Nintendo Direct, our very own Nintendo Life Indie Spotlight presentation, and plenty of exciting goings-on in the world of Nintendo, we're all feeling pretty exhausted. What better time, then, to sit back and chat about what we'll be playing over the weekend?
Members of Nintendo Life have done just that below (and yes, Mario 3D All-Stars is mentioned a lot), and we'd love for you to join in via our poll and comment sections. Enjoy!
Ryan Craddock, news editor
Yes, I've played them all before, and yes, I really didn't need to buy it, but I just couldn't help myself. Super Mario 3D All-Stars arrived yesterday and I plan to absolutely smother myself in Super Mario Sunshine goodness this weekend.
Sunshine was my first ever 3D Mario experience – Super Mario 64 just passed me by as I got into gaming towards the end of the N64's life – so it holds a special place in my nostalgia loving heart. I've played Mario 64 quite recently, and with Galaxy being slightly newer than the others, I feel like Sunshine's the best place to start for me.
I'm just really, really hoping that I still love it now as much as I did as a kid. There's nothing worse than replaying an old favourite and realising, 'yeah, this sucks actually.' I'm sure it'll be great! Have a good one!

Gavin Lane, features editor
It's an odd one, this weekend. I know what I should be playing, but honestly a part of me begrudges redeeming my last remaining Game Voucher on Super Mario 3D All-Stars. Of course I'll be getting it before it disappears off the eShop, but I've got so much else to play and the collection's merely 'adequate' remaster treatments means I'll probably hold off for a while.
I started the excellent Rogue Legacy the other evening (which may well leach all my weekend gaming time), but I'm also gagging to play Hades and Ori and the Will of the Wisps. Prior to this week's surprise drop, received wisdom suggested it was too colossal a task to optimise the gorgeous Xbox One game for Switch. Yet here it is, and apparently all 60 fps of it!
Stuart Gipp, reviewer
In its lamentable absence from Super Mario 3D All-Stars, I've been plugging away at Super Mario Galaxy 2 in an attempt to finally finish it after about thirty arrested attempts to see it through. I've also dropped my last two game vouchers on the upcoming Super Mario 3D World + Bowser's Fury and Hyrule Warriors: Age of Calamity; the latter being the sequel to a game I have bought on three formats and poured hundreds of hours into it while achieving approximately 8% completion.
I've also been playing through Earthworm Jim 2's excellent SNES incarnation via the rather lovely Evercade. Soon, I'll be looking into the recently translated Ganbare Goemon titles – between plugging away at reviews for Nintendo Life, that is.
Gonçalo Lopes, contributing writer
Rejoice for I am back! It has been quite a while since I wrote one of these.
I shall begin a "New Hero Journey" with Furano MS in Captain Tsubasa: Rise of New Champions. Assuming I can stray away long enough from both Inertial Drift and Hotshot Racing, I also want to spend some more time with Hades and Super Punch Patrol (those extra costumes won't unlock themselves), replay the demo of Hardcore Mecha a few dozen times and round up with Fight Crab lobster for dessert.
I shall cheat with my game of the week award by unsurprisingly picking Super Mario 3D All-Stars. However, the lack of Super Mario Galaxy 2 is an annoying itch I can't seem to stop scratching… Glad I still keep my Wii hooked up… They still sell AA batteries, right?
PJ O'Reilly, reviewer
Hello. This weekend my plan was to get stuck deep into Super Mario 3D All-Stars. I've never played Sunshine so was absolutely looking forward to getting started with that one, however, Nintendo decided to drop a bunch of other really cool stuff at this week's Indie Direct so I'm now having a Hades-flavoured couple of days instead. It's a tough job, dodging and hacking through the worst the underworld can throw at me, but I guess someone's got to do it.
Elsewhere I've also grabbed Ori and the Will of the Wisps, which I've already beaten but simply must play again in handheld, and am making my way through Rollercoaster Tycoon 3 in order to get my review up in time for launch next week. Have a good weekend whatever you are playing and stay safe out there!
Austin Voigt, contributing writer
THIS WEEKEND I AM PLAYING ALL THINGS SUPER MARIO 3D ALL-STARS AND THAT'S ABOUT IT. YOU CAN'T MAKE ME PLAY ANYTHING ELSE. I DON'T HAVE ANYTHING ELSE TO SAY. SUPER MARIO GALAXY IS MORE BEAUTIFUL THAN ODYSSEY AND I CRIED THE FIRST TIME I PLAYED IT, SUE ME. BYE. … [Is everything OK, Austin? — Ed.]
As always, thanks for reading! Make sure to leave a vote in the poll above and a comment below with your gaming choices over the next few days…
https://www.sickgaming.net/blog/2020/09/...mber-19th/