No More Heroes 1 & 2 Are Both Available Now On Switch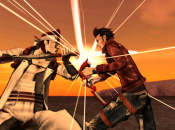 We've still got a long wait for No More Heroes 3, as it's not coming to Switch until 2021, thankfully all is not lost if you are itching to play a bit of Travis Touchdown on Switch as the first two No More Heroes games, No More Heroes and No More Heroes 2: Desperate Struggle, which originally launched for the Wii console, have stealth dropped on to the Switch eShop today.
Do you have fond memories of these classic games brought to us by the enigmatic Suda 51? Let us know if you plan to pick up one or both of these today with a comment below.
https://www.sickgaming.net/blog/2020/10/...on-switch/