Pure Pool Pots A November Release On Switch, New Gameplay Footage Appears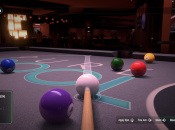 Ripstone Games has revealed that Pure Pool, described as "the definitive cue sports experience", will be launching on Nintendo Switch on 17th November.
Pre-orders for the game are now live on the eShop ahead of the big day, with early buyers being treated to a very welcome 20% discount from the usual £12.49 / $14.99 / €14.99 price. A new trailer has been released to celebrate, giving us a look at the game's 1080p, 60 frames-per-second gameplay in all its glory. Make sure to check that out above.
Ripstone Games' Product Manager, Hollie Pattison, says the game "runs like a dream" on Switch:
"We've had an amazing reaction to our initial announcement of Pure Pool coming to Nintendo Switch. The game runs like a dream on Switch and really delivers the ultimate billiards experience on the platform. We've prepared a new video that shows off the game in all its glory and we hope everyone is excited to grab their Switch and play some frames on November 17th!"
The game will feature a single-player campaign, skill-based challenges, unlockable customisation options and multiple modes of pool and snooker including Killer and American 8 Ball when it arrives later this month.
Are you looking forward to this one? Let us know if you're thinking of picking it up with a comment below.
https://www.sickgaming.net/blog/2020/11/...e-appears/