Video: Action-RPG Dragon: Marked For Death Gets An Epic Official Music Video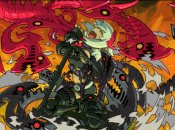 If the recent news of Dragon: Marked for Death's unfortunate delay on Nintendo Switch has been getting you down, fear not: this new music video hopes to drum up the hype once more ahead of its release.
Originally due for release on 13th December, but delayed for unknown reasons just weeks before that very date, this game sees players team up with three others to take on 30 quests, all wrapped up in a story fueled by revenge. The game's set to be released both physically and digitally, with the digital option actually splitting into two separate purchases.
The video above has been shared by Inti Creates, giving us a behind-the-scenes look at the creation of Dragon Marked for Death's orchestrated soundtrack and doubling up as an 'Official Music Video'. The game's soundtrack features 77 songs in total, portraying the various scenes present in the game's five countries; the footage shows how orchestras from Boston, Prague, Kuala Lumpur, and Okinawa recorded the soundtrack simultaneously.
The game is still scheduled to arrive on 31st January. Will you be picking up a copy?