Pre-Orders For The Gardens Between's Physical Switch Release Go Live This Week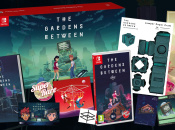 The latest indie game to get a physical release on Nintendo Switch is The Gardens Between, and pre-orders are going live later this week.
Originally confirmed a few months back, this partnership sees Super Rare Games releasing The Voxel Agent's chilled out puzzler in both standard and collector's editions. There will only be 5,000 units available in total, 2,000 of which will be collector's editions.
The standard edition will cost you £30, with the collector's release having a £66 asking price. Here's what you get for the extra cash:
– 64 page hardback artbook showing the journey from initial concepts to the release of the game
– A3 Poster
– 2 exclusive pins
– Water tattoo of the games logo
– Papercraft of the jumper (character in the game)
– CD soundtrack
Pre-orders go live on 28th November at 6pm BST. If you want to know more about this one before making up your mind, feel free to check out our full review – we'll leave a snippet for you below.
Relaxing as it is taxing, The Gardens Between offers a poignant coalescence of charming visuals, a relaxing soundtrack and a bittersweet story. The simplicity of its control scheme hides an incredibly clever and frighteningly intricate puzzle formula that sees you rewinding and playing time like an omnipresent director. Its unique setup makes it one of the most unusual puzzlers on Nintendo Switch.
https://www.sickgaming.net/blog/2019/11/...this-week/