Adventure Platformer Skully Leaps Towards A Summer Release On Nintendo Switch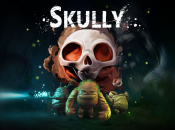 Modus Games and developer Finish Line Games have announced Skully for Nintendo Switch and other systems, an adventure-platformer planned to launch this summer.
The game sees the titular Skully heading out on a quest to stop a simmering war between feuding siblings. A press release says that, "summoned by a local deity desperate for peace among his kin, Skully can sculpt new abilities from pools of magical clay found throughout the lush island he finds himself washed up on".
You can get your first taste of Skully's gameplay in the new video above. You'll get to see how his different forms can open up new areas, as well as the game's lovely-looking scenery. Daniel Posner, CEO of Finish Line Games, has shared the following:
"We're really excited to share Skully with the world. We think a lot of people will connect with the game, and its heroic journey of a seemingly unimposing character destined to accomplish great things."
Skully will launch on Switch on 4th August 2020, so we don't have long to wait to check it out for ourselves.
What do you think? One to keep an eye on? Share your first thoughts with us in the comments below.
https://www.sickgaming.net/blog/2020/05/...do-switch/