The Remake Of The Classic Cel-Shaded Shooter XIII Launches This November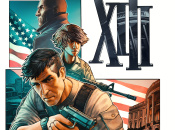 Last year, Microids and PlayMagic announced they would be releasing a remake of the cel-shaded first-person shooter XIII for Nintendo Switch and multiple other platforms. It was scheduled to arrive before the end of 2019 and was then delayed.
It's now been confirmed the game will be launching on 10th November. There's no mention of price just yet. Alongside this announcement comes a first look at the gameplay. Here's a bit more about the trailer above, courtesy of the press release:
The gameplay trailer unveils the artistic direction chosen, especially the cel-shading treatment, trademark of the original game! Discover the new look of two iconic environments of the game: Brighton beach or the FBI headquarters ; and get a glimpse of some of the weapons and useful items needed to progress through the game, hinting of the different play styles. Will you play sneakily or choose the frontal confrontation?
The game includes a solo campaign and also the option to "challenge your friends" in multiplayer matches. On top of this, the team has been able to remaster the original game soundtrack and actors' voices.
There'll also be a limited edition released on 10th November – including a copy of the game, a two-sided metal case, three art cards, and 13 in-game weapon skins. And if you pre-order any version of the game, you'll get the Golden Classic Weapons Skins Pack (containing a pistol and golden knife).
Is this the remake you've been waiting for? Tell us down below.
https://www.sickgaming.net/blog/2020/06/...-november/