Monster Hunter Stories Is The Best-Selling 3DS Game On Amazon Right Now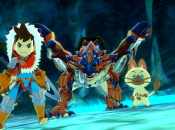 Capcom surprised Nintendo fans this week with not one but two brand new Monster Hunter games. The second title, Monster Hunter Stories 2: Wings of Ruin, will be released on the Switch in 2021 and is a follow-up to the original 2016 3DS entry.
This announcement is now seemingly fueling sales of the original Monster Hunter Stories game on Amazon in the US, as originally spotted by Twitter user Stealth40k. At the time of writing, the game is the best-selling 3DS title, and right now is the 11th best-selling 3DS product overall.
On Amazon UK, this game is also one of the best-selling 3DS games, in 38th place. Twitter user TheShaneM further noted how the digital version is currently on sale on the eShop in the US. Instead of $39.99, it's currently available for $19.99. Monster Hunter Generations Ultimate is on sale as well via the Switch eShop.
To learn more about the original Monster Hunter Stories, why not check out our review – we gave it 9 out of 10 stars. Are you at all tempted to try out this game now that a sequel has been revealed? Tell us below.
https://www.sickgaming.net/blog/2020/09/...right-now/