Watch: Animal Crossing: New Horizons & Chill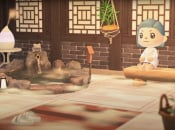 Ahhh, Animal Crossing: New Horizons. What a lovely, relaxing game that's sometimes about spending hours searching for one specific villager on Mystery Islands instead of doing something sensible like cooking lunch.
In the spirit of things, following the new 2.0 update, we've put together this wonderfully tranquil, hour-long video of some calming Animal Crossing views. Watch the fish swim around the aquarium, or appreciate the sounds of waves lapping upon the shore, and imagine yourself enjoying a life of luxury on your very own paradise island.
We've done ASMR before, but this is less "someone touching a keyboard gently" and more "watching the clouds pass by while nice music plays" — so imagine it more like the kind of video that plays in a spa waiting room.
Have a lovely week, and don't forget to subscribe to the Nintendo Life YouTube channel for more content that is mostly not this relaxing, but still fun!
https://www.sickgaming.net/blog/2021/11/...ons-chill/