Become A Star Player When Luma Joins Mario Tennis Aces In January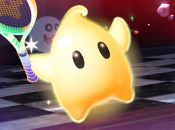 Since first appearing in the Super Mario Galaxy games on the Wii, Luma has been featured in many other Mario games. While the star-like creature is probably best known in recent times for fighting alongside Princess Rosalina in Super Smash Bros. Ultimate, in the past Luma, has appeared as an unlockable character in the likes of Mario Tennis Open on the 3DS.
Nintendo's new trailer for Mario Tennis Aces has now revealed Luma will make a return to the court at the start of January. All you'll have to do is play the in-game tournament between the 1st and 31st day of the month to unlock this player, else you'll be required to hold out until Feburary. In the brief clip above you can see the technical skills of this character. Luma was previously confirmed for Mario Tennis Aces in November alongside Pauline and Boom Boom.
Are you still working on your game in Mario Tennis Aces? Tell us below.